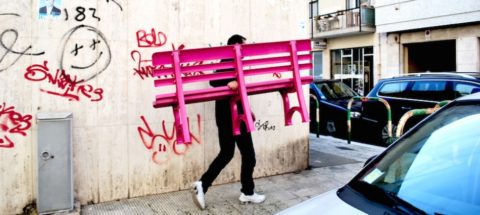 (2009) mobile urban intervention, variable dimensions and shape
[ita]
La panchina di Personal Urban Dimensions, somiglia a una classica panchina reperibile nello spazio pubblico, la sorpresa è che può essere spostata nei differenti luoghi cittadini, consegnando alle persone la possibilità di agire sul proprio ambiente di condivisione.
Si tratta un oggetto di uso comune, un prodotto industriale che mantiene parte della propria funzionalità e, attraverso un sottile spostamento di senso, realizza un'utopia.
Il progetto è modellato sui singoli territori in cui sarà presentato, rispecchiando di volta in volta strategie differenti, pensate sulla base delle caratteristiche del luogo e della comunità cittadina.
Progetto realizzato in diversi spazi urbani, in occasione di esposizioni d'arte. Le panchine sono tuttora gestite dalla comunità cittadina.
[eng]
The Personal Urban Dimensions bench looks like a classical bench which may be easily seen around the town. The surprising feature is that it may be moved to different public spaces of the town, giving people the opportunity to live and share their environment.
This is a common object, an industrial product that retains part of its functionality and, through a slight movement of the senses, creates a utopia.
The project is modeled in relation to the single areas where it will be presented, reflecting from time to time, the different strategies that have been studied, to suit the peculiarities of the area and its urban community.
Art project realized in urban areas during exhibitions. The benches are still managed by the local community.